Where We Do It
See the chart below to get detailed information on The Club, Manhasset Preserve, and Gatsby Yacht Club
The Manhasset Preserve
Imagine your next event, as the only event on 36 acres overlooking Long Island Sound…The Manhasset Preserve has 2 interior rooms & marble foyer. The outside boasts a covered verandah and tentable area. Let Culinary Architect take care of all the details so you may enjoy your Special Event.
The Gatsby Yacht Club
The Gatsby Yacht Club is an elegant, extravagent way to spend your special occasion, and nobody knows first class catering in New York better than Culinary Architect Caterers.
The Club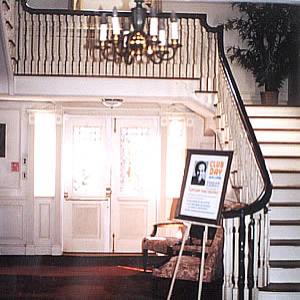 Enjoy old world charm in this Georgian Brick Manor. Includes formal foyer, fireplace, large wood floored room with French doors and slate outdoor patio. Perfect for celebrations large and small.
| | | | |
| --- | --- | --- | --- |
|   | Manhasset Preserve | Gatsby Yacht Club | The Club |
| Town | Manhasset, NY | Port Washington, NY | Great Neck, NY |
| Minimum Capacity | None | None | None |
| Maximum Capacity | 110 | 75 | 180 |
| Maximum Capacity with tent | 150+ | NA | NA |
| Cuisine | Custom Designed | Custom Designed | Custom Designed |
| Kosher Style | Yes | Yes | Yes |
| Must use in-house liquor | No | No | No |
| Maximum number affairs (same time) | 1 | 1 | 1 |
| Outdoor/Indoor ceremony | Yes | Yes | Yes |
| Bridal Changing Room | Yes | No | Yes |
| Outdoor Reception Area | Yes | Yes | Yes |
| Waterview | Yes | Yes | No |
| Garden | Yes | No | Yes |
| Terrace or Patio | Yes | Yes | Yes |
| Dance Floor | Yes | Yes | Yes |
| Live music/DJ permitted | Yes | Yes | Yes |
| Valet Parking | Required at additional cost | AUR | AUR |
| Wheelchair accessibility | Yes | No | Yes |
| Tables/chairs/china/linens included | Yes | Yes | Yes |
| Price range per person |   |   |   |
| Cocktails or Brunch | $75+ | $75+ | $75+ |
| Lunch or Dinner | $112.50+ | $122.50+ | $112.50+ |
| Room Fee | $2,100.00 | $500 | $2,800 |
| Days/Hours Available | Sat. after 3:00PM; Sun. all day; Mon.-Fri. Inquire | Flexible | Mon.-Sun. |